Euphoria 2023 available as of October 10
Available at the Brisbane Fashion Month pop up activation at the Wintergarden.
Try on our designs for fit and sizing prior to orderimg.
We offer small customisation of your garment to create the perfect fit. Your garment will then be made for you within a two week turnaround.
Follow us in Instagram to stay up to date on what is happening and when we will drop new treasures!
instagram @fraimofmind
For wholesale inquiries please email us for a chat. fraimofmind@outlook.com
Our Vision
 Fraim of Mind was born through desperation.
Unable to find clothing that is comfortable and in which I felt beautiful.
Over thirty does not have to mean forgotten by fashion.
My vision is to change this....
Our goal will be to design thoughtful well made garments; in edgy designs relevant to today.
Australian made in natural fibres featuring unique in house print designs in limited drops.
Amy Skirt
Our Amy quilt skirt is truly a designer item. A quilted skirt yoke with centre back zipper. High waisted in a gorgeous cool blue haze silk cotton. Wear Amy with the Estelle bralette or consider our over-the-top blouse instead. Either way this is a standout piece to suit many occasions.
RRP: $400.00
Rachelle Shift
An easy to wear column dress in Japanese cotton/silk.
Fully lined of course in a soft cotton voile makes the Rachelle dress the perfect allrounder.
Vertical stripes create a slimming effect and the faux pockets emphasizes hip shaping.
Pair with the Renee Jacket or the Marie shrug for arm coverage.
RRP: $230.00
Merryl Casual Jacket
We wanted to create a linen jacket to wear with everything this season.
Beautiful linen twill will crease stylishly and is sure to become that trusty jacket you reach for every time.
Fully lined in cotton voile with two patch pockets and sufficient length to cover the seat.
RRP: $350.00
Esme Jean
Our Fraim of Mind interpretation of a jean for hot humid weather.
High quality Japanese linen/cotton blend will wick moisture and crush stylishly.
A versatile staple that can be dressed up or down.
Our jean sits on the natural waist with cropped legs featyring a slight kick.
RRP: $220.00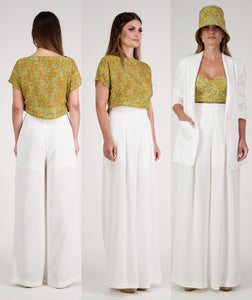 Delia wide leg trouser
Delia is our soft diaphanous pant which drapes like a dream.
The trousers have two front pleats and back darts for shaping.
The double georgette is a delicate fabric but just perfect to create this look.
Wear Delia with our Carla blouse and the Merryl jacket with a bralette under for a pop of colour.
RRP: $275.00
Estelle bralette
Our bralette is available in our signature season floral or blue haze.
Fully lined and elasticcated in the back has this pull-on style keeping you fresh and comfortable.
Designed to be worn on it's own or as part of a layered look under sheer garments
RRP: $180.00
Selma Tea Dress
Our beautifully crafted Selma dress will remain stylish for years.
Bodice is self lined, this super cool cotton poplin midi dress will suit the office as well as a summer wedding.
Style with your own belt as we did!
For arm coverage pair back with the Renee jacket.
RRP: $375.00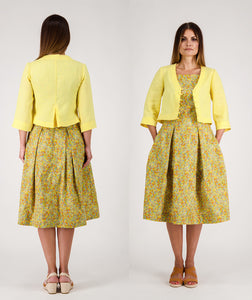 Renee Cropped jacket
Worn as a shirt or jacket the Renee is exceptionally versatile.
Made in 100% linen and unlined; we finished her off with French seams to ensure she looks gorgeous from the inside out.
Shaped in the back with a pleat and finished with covered buttons and loops.
Wear over anything sleeveless or on her own.
RRP: $250.00
Nancy Shirt
Lovely short sleeve shirts are back!
Made from our signature season's floral cotton with cute puff sleeves and tiny front button fastening.
We have elevated the camp collar with femininity.
Nancy can be worn as a set with the matching skirt or as a casual top in a myriad of ways.
RRP: $200.00
Marie Shrug
We re-created the shrug!
Something for everyday when you just want some arm coverage over a camisole or the air-conditioning becomes a bit chilly.
Made in a luxury linen gauze that crinkles beautifully with wear so you never look unkept.
RRP: $180..00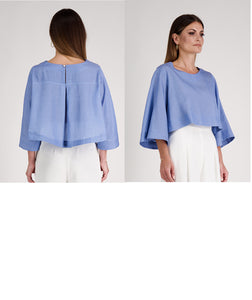 Viola Swing top
We made our Viola top from buttery soft silk cotton.
Bell sleeves and a shaped waistband has us wearing Viola whenever we can.
Style with Delia pants or the Nancy skirt.
Cool and fresh, floating around the body.
Viola has your summer covered.
RRP: $180.00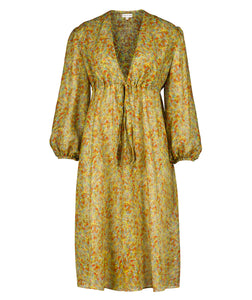 Pamela Dress
Pamela is our luxe design with ease of wear first in mind.
The adjustable under bust drawcord allows for bust size variation. The lined bodice and unlined skirt keeps you looking chic.
Made from our signature limited edition floral silk/cotton voile you will float through any summer occasion in style.
Wear over the Delia pants or on her own.
RRP: $300.00
Nancy skirt
The Nancy skirt is fully lined and fitted to just above the knee.
Made in our signature season print from cotton poplin.
The piped frill lengthens to midi and allows one to stride with ease.
Designed to wear with the Nancy shirt or as a separate to update your current wardrobe.
RRP: $250.00